Location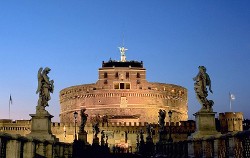 The city of Rome is located in the central-western portion of the Italian Peninsula, on the Tiber river within the Lazio region of Italy. Rome's history spans over two and a half thousand years. It was the capital city of the Roman Kingdom, the Roman Republic and the Roman Empire, which was a major political and cultural influence in the lands bordering the Mediterranean Sea for over four hundred years from the 1st Century BC until the 4th Century AD. Since the 2nd Century AD Rome has been the seat of the Papacy and, after the end of Byzantine domination in the eight century it became the capital of the Papal States, which lasted until 1870. In 1871 Rome became the capital of the Kingdom of Italy, and in 1946 that of the Italian Republic. Since 1929 it is also the site of the Vatican City, an independent city-state run by the Pope.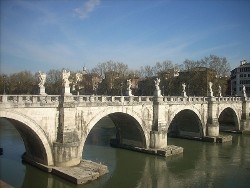 During the Middle-Ages, Rome was home to popes such as Alexander VI and Leo X, who transformed the city into one of the major centres of the Italian Renaissance, along with Florence. The current-day version of St Peter's Basilica was built and the Sistine Chapel was painted by Michelangelo. Famous artists and architects, such as Bramante, Bernini and Raphael resided for some time in Rome, contributing to its Renaissance and Baroque architecture.
Rome, especially in classical times, has been influential in the world regarding subjects such as architecture, art, culture, politics, literature, law, philosophy and religion. Due to this centrality on many levels and powerful city-status, Rome has been nicknamed "Caput Mundi" (Latin for "Capital of the World") and "The Eternal City". The city is, on addition, an important centre of pilgrimage in the Christian, notably the Roman Catholic Church, and St Peter's
Basilica, found in the Holy See, is often called the "the greatest of all churches of Christendom". Rome's architectural and archaeological sites contribute to it having many UNESCO World Heritage Sites. Its global influence in politics, literature, high culture, the arts, music, religion, education, fashion, cinema and cuisine lead it to being considered an Alpha- world city, according to Loughborough University and GaWC in 2008. Rome is also a hub of the cinematic and filming industry; for example, the Cinecittà Studios, which saw the filming of several internationally acclaimed movies as well as television programmes, are located in the city.
For more information, please visit the official Rome Tourist Information website.
Document Actions