Guest Program
Historic Museum of Radios
Tuesday 12 April, h 9:30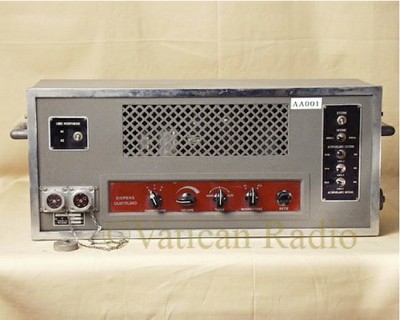 The Museum of Radios is located just inside the beautiful Vatican Gardens and stores hundreds of devices that recall the past History of radio broadcasting along the past decades: microphones, recorders, receivers and so on. The exhibition of vintage devices is enriched by a significant collection of photos and movies.
The guests will meet at the S.Ufficio gate at the entrance of Vatican State and will have the possibility to enter the Vatican boundary, cross the Gardens and visit the Museum.
The maximum number of ammitted guests is 20!
Admission fee: FREE
Visit booking will be available onsite, at the EuCAP Registration Desk.
Preliminary Program
9.30: meeting point at the S. Ufficio gate and document check
12.30: end of the visit
Info
Jesuit Father Bruno Bisceglia S.J.
University of Salerno
bbisceglia@unisa.it
The Machines of Leonardo Da Vinci

An exhibition dedicated to the universal genius of Leonardo Da Vinci, in the heart of Rome with numerous touring versions all over the world, the Leonardo Da Vinci's Museum give to every single visitor a unique experience where its sensorial perception and the knowledge about "Leonardo" espouse together to donate the feeling of being immerse in a very topicality past.
A landmark both for visitors and training aid, a cognitive instrument, the Leonardo Da Vinci's Museum of Rome has the real machines draw by Da Vinci's codes.
An imposing and peculiar work, made with trifle care to realize actual working machines, with great size, built the way of special processes: these machines, not just "models" are entirely made by wood and this required the use of sophisticated technologies both special human skills.
This Museum is an exhibition well studied and well-groomed down to the smallest detail, where machines interactivity play the key role.
Admission fee: 5 € (instead of 9 €)
EuCAP Delegates will find inside their Conference bag two 40% discount coupons!
PALAZZO DELLA CANCELLERIA
Piazza della Cancelleria
00186 - Roma
INFO
E-mail: info@mostradileonardo.com
Tel: +39.06.69887616
Document Actions