EMSCAN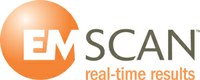 Category:
Exhibitors
EMSCAN has provided electromagnetic very-near-field test equipment to Design, Verification and Compliance Engineers since 1989, using a patented planar grid array of antenna. Our solutions create visual representations of electromagn.etic values in real-time and offer unique, extremely fast and cost effective solutions to complex problems facing PCB and Antenna Engineers today.
RFxpert is the only real-time, compact, bench-top antenna measurement equipment. In less than a second, unique array of automatically switched probes calculates accurate FF patterns & radiated power levels based on NF measurements.
EMxpert is a real-time, compact, bench-top EMC/EMI diagnostic tool enabling designers to rapidly diagnose&solve EMC/EMI problems in a single design cycle.